Metairie Karate Classes for Kids
Are your children beginning to show interest in learning karate? Perhaps they are wanting to make new friends. Maybe they have been watching many karate movies and they want to learn those skills for themselves. If you have been searching for martial arts and self-defense training classes for kids in Metairie then look no further.  Because Tiger-Rock Martial Arts classes have you covered.
Tiger-Rock Martial Arts academies have been around since 1983. Thanks to our hard work and dedication, we have created one of the most successful and martial arts franchises across the nation. We currently have 100+ locations nationwide. Each location employs a team of certified instructors who are here to help you excel in Taekwondo. We understand that it may not seem easy to develop your mental and physical strength, but we will be here as your support system. If you and your children are interested in investing time in martial arts, this is the perfect place for you. We are here to aid your children in growing and becoming the warriors they have always wanted to be.
Does your teenage son or daughter have an interest in learning karate? If so, here at Tiger Rock, we are well aware that the teenage years are not the easiest to deal with. If your daughter is having problems making friends in school or anywhere for that matter. Or if your son's grades have started to drop. We have the perfect solution for you and your family. Tiger Rock's Metairie karate classes for kids will give your child the opportunity to learn in a healthy and safe environment. Additionally, our martial arts training programs will improve students' confidence, discipline, focus, and self-esteem.
Karate Classes for Kids as Young as 4 Years Old
Is your child beginning to show interest in karate? Do you think that your kids are too young to practice martial arts? Here at Tiger Rock, in Metairie, our karate classes and self-defense training for kids are tailored specifically towards younger children that are showing interest in karate. Our Tiger-Cubs program is perfect for younger children that want to immerse themselves in learning karate. The Tiger-Cub program is for children between the ages of three and six years old. If you have any children that wish to participate in a fun and competitive activity, this is the environment for them. Our team of Taekwondo masters has experience in training children from all backgrounds and statuses. We're sure that your child will want to return to our dojo time and time again.
Tiger-Rock does more than teach young children. We have resources for your teenagers as well. So if you have a teenage son or daughter that is interested in learning martial arts. Or if you have a teenager that is beginning to act out in school. Then this perhaps indicates that you are unable to communicate clearly with them. This is something that many parents experience. Fortunately, there are alternatives available. With the help of Tiger-Rock, your child will be able to grow and learn valuable life lessons. Our team is always ready to help teens reach their ambitions and learn important lessons such as respect, discipline, and self-control.
Varying Age Classes
For our older kids, we offer the Tiger-Rock Junior program for ages 6-11. Students in this martial arts and self-defense training program will take part in various athletic and artistic activities. Furthermore, they will begin to further their physical and mental limits, while also learning to participate in activities with others. Tiger Rock's instructors are committed to helping the younger generations grow both physically and mentally. Our team of professional instructors has trained children from a wide array of backgrounds. Moreover, we are very confident that your child will fit in here at Tiger Rock. The Tiger-Rock Youth Program focuses on children ages 12-15. This program helps them get the mental and physical strength they need. By enrolling them in at Tiger Rock, you are making a great decision for your child's present and future. We are experts here to provide trainees with the guidance and training they need to succeed in life.
Countless Benefits
Training in martial arts is great for a number of reasons. Training in martial arts can be very beneficial for things such as confidence, self-esteem, and overall health. Students will also experience improvement in coordination, focus, and mental sharpness. If you are interested in becoming a better version of yourself, then you are going to love being part of Metairie karate classes for kids and self-defense training at Tiger Rock. When you join one of our academies, you'll be taking the first step into a better you and consequently, a better future.
Tiger-Rock Experience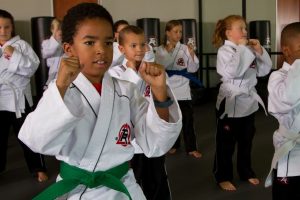 If you are searching for karate classes for kids, Tiger Rock is here if you are trying to assist your child in reaching their full potential. We believe that it takes a village to raise a child, and your community has valuable lessons to offer them. As a parent, it's critical for you to make sure your kids are well prepared for the reality of the world. If you are looking for a setting that can help your child grow, call us today and speak to one of our representatives. Our certified staff of instructors is prepared to make sure you are able to get the most out of the instruction we provide. Our friendly representatives are ready to answer any questions or concerns you may have. Reach out today by dialing 504-455-9699 or clicking here.
Fun Facts About Metairie LA
It's the largest community in Jefferson Parish. It is also the fifth-largest CDP in the United States.

With approximately 450,000 residents, more Louisianians now live in Jefferson Parish than any of Louisiana's other 63 parishes.

Metairie was the first suburb of New Orleans, and it is located on the south shore of Lake Pontchartrain.

In the 1720s, French were the first Europeans to settle Metairie in the area known then as Tchoupitoulas.

Home to the New Orleans Baby Cakes. 

Metairie is a large unincorporated area that surrounds Harahan on three sides.

The Metairie-area historical tornado activity is slightly below Louisiana state average. It is 30% greater than the overall U.S. average.