Metairie Taekwondo
When it comes to quality Metairie Taekwondo training and martial arts defense classes, there is only one place you should turn to. That is Tiger-Rock. We are a martial arts school that is part of a franchise with over 30 years of experience. Tiger-Rock Martial Arts Academies have been training students in taekwondo since the mid-1980s, and we have no plans on slowing down anytime soon. We take pride in teaching proper taekwondo techniques and skills to people of all ages over four years old. With over 100 locations nationwide, we are one of the leading martial arts franchises in the world.
Training in Taekwondo is great for people of all ages. Tiger-Rock of Metairie's taekwondo training and martial arts defense classes give you valuable skills or combat and self-defense, and they're also a great way to stay in shape. When you join Tiger-Rock, you are joining a group of individuals searching for ways to improve themselves and their lives. Additionally, our state of the art facilities offers a safe and clean environment where students can hone and improve their overall combat skills. Whether you are looking to improve your physical fitness or need a new way to reduce stress, we are the perfect martial art dojo for you. Once you experience the great feeling that comes from practicing taekwondo, you won't be able to stop coming.
Taekwondo-Based Training Programs
Although our training regimens include a variety of skills and techniques, the majority of our training is based on the Koreas martial art discipline that is taekwondo. Every moment you spend training with us is a learning experience. The training programs consist of constant practice of correct form and technique. With our certified instructors, students will learn various techniques of taekwondo that will develop coordination, balance, self-control, discipline, and much more.
Even more, taekwondo training will include things such as learning proper ways of punching, striking, kicking, and board-breaking. Traditionally, taekwondo training includes hands-on workouts/self-defense regimen. Above all, Tiger-Rock is committed to teaching the best form and techniques in taekwondo to all the students that walk into our academies.
What is Taekwondo?
Taekwondo is a martial art discipline that originated in Korea. The name translates to "The way of the hand and foot". In the early days, taekwondo was mainly a form of recreation and a self-defense regime. Its current form didn't come to be until the wake of WWII when Korea was finally liberated from Japanese occupation.
American interest in the discipline did not take off until the mid-1950s when some taekwondo instructors and demonstrators performed in the stated to great amounts of acclaim. There are currently many different, accredited taekwondo organizations including the International Taekwondo Federation (ITF), the World Taekwondo Federation (WTF), and the American Taekwondo Association (ATF).
The Philosophy of Taekwondo
As the name points to, the physical aspects of taekwondo training focus on training the body as a weapon. Although weapons have become a more integral part of the modern discipline, taekwondo's philosophy and history are rooted in hands-on combat.
In addition to the physical skills, taekwondo also teaches students the value of personal integrity and service to the community. Overall, taekwondo is a great way to learn valuable lessons in both combat and life in general.
Tiger-Rock's Taekwondo Classes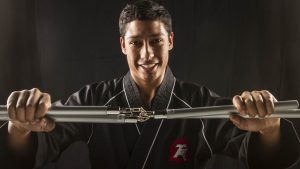 Every second spent training in taekwondo is a learning experience. By practicing the correct form and technique, students will learn a series of defending and attacking movements performed in a specific and defined order. Through extensive practice, students will learn proper techniques of taekwondo that will help develop coordination, balance, self-defense skills, self-discipline, and much more.
Opportunities for Competing
Taekwondo has been a part of the Olympics ever since it was declared an Olympic sport in the year 2000. As a result, taekwondo is one of the most popular choices within martial art enthusiasts looking to compete on a professional level. Tiger-Rock Martial Arts Academies encourage students to showcase their skills in our annual competitions. Students are able to compete on the local, state, and national levels. Additionally, we'll ensure participants have all the training required to make sure they are well-prepared for any type of competition.
Benefits of Joining Tiger-Rock Martial Arts
There are many reasons to join Tiger Rock of Metairie's Taekwondo training and martial arts defense classes, and very few to not join. One of the best things about martial arts is the ability to get in great physical shape while learning valuable skills in combat and self-defense. Additionally, martial arts training can be a great way to reduce stress and anxiety in a healthy way.
Great Way to Learn Self-Defense
In the world we live in, you can never be too sure about what may or may not happen. There are many people out there trying to cause harm to people for no reason. If you happen to come across someone who is looking to physically attack you, it is important to be able to properly defend yourself. If you feel like you may be vulnerable to an attack, take a step forward and join our martial arts program. There are few ways to defend yourself cooler than martial arts. Imagine fighting off an attacker with your newfound martial art abilities.
Getting Back in Shape
If you feel like you have let yourself go, it might be time to get back to your normal self. Physical fitness has been shown to improve overall health in many ways. Whether you are looking to lose a few extra pounds or just boost your health. Metairie Taekwondo training and martial arts defense classes are a great way to reach your fitness goals.
Healthy Way to Reduce Stress and Build Confidence
Life can become very stressful at times. Whether it's having issues at work, home, or in your love life, we all deal with different types of stress. Finding a healthy way to reduce stress is very important for mental and physical health. Tiger-Rock Martial Arts provides a healthy environment where students can work off their stress and anxiety while building confidence in the process.
Join the Best Taekwondo Classes
When searching for a martial arts gym with both quality facilities and great instructors, there is no one better than Tiger-Rock Martial Arts. You can contact our gym by calling (504) 831-1110 or clicking here. Moreover, if you want to learn more about our gyms and our Taekwondo Classes, click here.
Metairie, LA Fun Facts
Metairie was settled by French settlers in the latter part of the 18th century
The community is located in Jefferson Parish
Most of Metairie was not developed until after WWII