Self Defense Training
Have you been searching for a Metairie self-defense class and training academy for kids and adults? Maybe you're starting to realize that you're not properly equipped to handle an attack on you or a loved one and you would like to be. If you want to begin developing high-level your self-defense skills, Tiger-Rock Martial Arts academies have the tools necessary to help trainees jumpstart their journey towards success in the real world.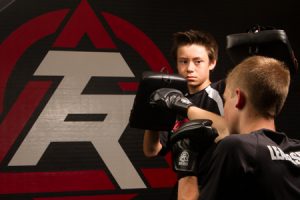 Tiger-Rock Martial Arts academies have been offering professional martial arts training since 1983. Since our first year in the industry. We have grown into one of the largest most successful martial arts franchises in the nation. In addition, we have over a hundred academies all around the U.S. Each and every dojo we supervise has a team of certified instructors who are experienced masters in Korean Taekwondo. If you wish to join a self-defense class and or martial arts training academy for kids and adults, Tiger-Rock can help. Being able to properly defend yourself against anyone is a valuable skill that everyone should be equipped with.
Expert Self Defense Training
Here at Tiger Rock, we aim to promote the importance of hard work and dedication. Our classes are meant to be for educational purposes, but the truth is that there are criminals, predators, robbers, and attackers ready to attack innocent citizens in every part of the world. There are some people that don't see the importance of learning self-defense. Despite that, we believe that having the skills to take down an assailant is critical in today's world. You just never know when you could be the subject of an attack. Furthermore, if you want to make sure you can completely disarm the threat, taking professional self-defense classes can be of help. Therefore it makes sense to enroll in one of the self-defense classes that we teach here at Tiger-Rock Martial Arts.
Self-Defense Classes
Are you looking for a Metairie self-defense class or training academy for kids and adults that takes learning seriously? If so, then Tiger-Rock Martial Art is the place for you to learn. At Tiger-Rock, we know that young kids want to be part of a fun and enjoyable programs, but we also make sure to keep our programs informative and competitive. So if you are someone who's ready to take part in hands-on training and simulate aspects of real-world attacks, we can surely help you.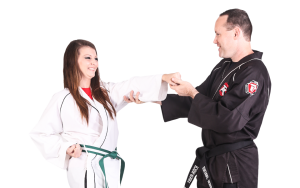 Tiger Rock's professional instructors want students to walk away fully capable of defending themselves against anyone. This is why we provide hardworking students with the resources required to be able to do this. So If you aren't sure how to ward off an attacker or robber, we are here to give you tips that will give you the best chances of defending yourself successfully. Regardless of what your size or age is, Tiger-Rock will equip you with tools to handle any assailant, regardless of what their age or size is as well.
You may feel like you are hopeless, but there is no need to worry. We can assist you with the honing of self-defense skills. Even more, we can help you make the most out of your newfound skills. Tiger Rock is ready to help trainees understand the optimal ways of building body strength. In addition, we'll also help our students understand the fact that their life truly is priceless and that they should able to defend it.
How Self-Defense Classes Can Benefit You
Are you still not convinced that joining a self-defense class is the right decision for you? Or maybe you are still undecided whether or not these classes will be able to truly help you. Having doubts is totally understandable, but at Tiger Rock, we are confident that our self-defense courses are beneficial in a number of ways. In addition to giving you the tools to properly defend yourself.
We can also be of assistance if you are someone who is trying to strengthen your discipline? Perhaps you are growing tired of being unable to concentrate either at work or school. If you feel like you are ready to develop a high level of calmness, confidence, self-awareness, discipline, and focus, then we are the perfect academy for you. In addition to the tools and skills that will deter any criminal away, you'll also experience improvements in mental sharpness, focus, and coordination.
Having a disciplined mind, body, and soul can come with plenty of benefits. Moreover, physical training provides you with the tools and skills necessary to maximize these and other types of courses. Oftentimes, people might think that being physically sharp is enough or a healthy lifestyle. However, being mentally sharp is just as important if not more. When you join Tiger-Rock's courses, you will be able to improve both your mental and physical capacities.
Reach out to Tiger-Rock Martial Arts Today!
Finding Metairie self-defense training classes and training academy for kids and adults that line up with your specifications is very critical. Especially if you wish to enhance your ability to defend yourself. At Tiger-Rock Martial Arts, we believe that everyone should be capable of defending themselves in any sort of situation. Additionally, our classes are great as you will be able to defend your self with proper techniques and skills.
By signing up for our classes and programs as soon as possible, you'll be taking the first step in improving yourself and your body. Our team is full of helpful experts who are committed to helping you find a class that fits your busy schedule. Our team of professional instructors is eager to join you on your journey towards being able to defend your life against anyone causing danger to you or your family. To learn more information about our self-defense program, give our friendly specialists a call today by dialing (504)-455-9699 or clicking here. We look forward to hearing from you, start your self-defense journey with us now!
Fun Facts About Metairie LA
Although larger than most cities in the state, Metairie is not legally a city. 

Metairie can be an amazing stop on your way to New Orleans!

Metairie is below sea level.

During the 1760s, many of the original French farmers were tenants; after the Civil War, the majority of the community's inhabitants were sharecroppers until urbanization started in the 1910s.