Have you been searching for Metairie martial arts classes or a training academy for self-defense, but you are not sure where to turn? If you're currently searching for ways to improve your mind and body, Tiger-Rock Martial Arts can certainly be of help. Tiger-Rock Martial Arts academies are proud to be one of the nation's leading martial arts studio where you can learn and master martial arts.
Tiger-Rock Martial Arts is a training academy for self-defense that's been training students since 1983. Thanks to our many years of experience, we have the expertise and knowledge necessary to train any student that walks into our facilities. As a result, we have become one of the nation's most popular martial arts franchise in America, and we are still growing our knowledge and skills to new heights. Our expert instructors will walk with you hand in hand to ensure that you reach the goals you set for yourself. Additionally, you will receive the guidance you need to make a positive mind and body transformation.
If it seems like you are lacking the physical strength to do the tasks that you need to be done, it might be a good idea to start martial arts. Perhaps you are beginning to notice that your child is spending too much time playing video games. There are plenty of reasons that could encourage you to give our dojo a try. We understand that in today's world, everyone is busy and overwhelmed. Exercise may not be the easiest but it is important, and thus, we are here to help.
Martial Arts Classes
If you have children that are struggling with their physical health? Perhaps they don't have the necessary stamina to go on a walk around the park with the family. If your family is suffering from these issues, it can be very hard to handle this type of situation. All parents want their child to be happy and healthy, unfortunately, it can be hard to make sure your child is always healthy. This is especially true now when we live in a society where kids are consumed by video games and junk food. If you are starting to notice signs of this happening to your child, then why not give your children the tools that can help them the rest of their lives?
Furthermore, if your kids are struggling to develop physically, it makes sense to enroll them in martial arts programs that will provide them the tools that will help them successfully navigate through their lives. In our karate classes, we have many striking and kicking drills that will give your son or daughter the exercise they need. With these drills, they will strengthen their muscles, speed, stamina, and so much more. Our dojos put your child's safety and health first, and we know all our students can reach their goals.
Martial Arts for Kids
We offer many Metairie martial arts and training programs for children that vary for different ages. We offer the Tiger-Cubs Program, which is one of the most popular programs that we offer. So if you are currently your child is between the age of 3 and 6, then they'll be able to learn martial arts. Here, your child will have the opportunity to learn more about danger awareness, discipline, and physical fitness.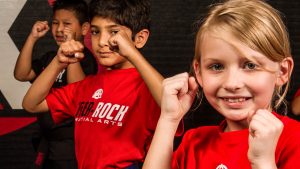 In addition to our Tiger-Cubs program, we also offer the Tiger-Rock Junior program for ages 6-11. Students in this program will further their physical and mental traits, while also learning to participate with others. Finally, we offer The Tiger-Rock Youth Program which focuses on children ages 12-15. Help them get the mental and physical strength that they need by enrolling them in at Tiger Rock. We are experts here to provide them with guidance and training to succeed in life.
Something else that is important that all kids should have is agility and flexibility. Usually, children have the best flexibility. However, if your son or daughter is struggling with their range of motion, you are probably beginning to worry. Here at Tiger Rock, we will make sure your child has the tools and resources to maintain their agility and flexibility through life.
Martial Arts for Adults
We are well aware that not everyone understands the importance of working out, but it is absolutely critical to maintain your health. If you are trying to get the most out of our classes, we suggest you immerse yourself in our drills every time you are here. We provide students with high-intensity strike and kick routines that will help them master their footwork and posture. Whilst still giving the body an intense, full-body workout at the same time.
Martial arts classes can build physical strength and also make sure your mind is mentally sharp. Are you beginning to feel dull or groggy? Are you are having problems concentrating at school or at work? If any of these issues are present n your life, it is important to fight back. If you would like to strengthen yourself mentally and physically, then our expert team at Tiger-Rock can help you!
Contact Us Today!
Metairie martial arts classes with Tiger Rock's training academy are just down the road. It's an excellent reminder that you're never too far away from learning from the best. We understand that its a necessity to find a dojo that fits your needs. It should be clean, hygienic and above all dedicated to teaching you the most effective skills. Don't feel rushed, feel free to explore all over before you make a choice. If you have decided that our Tiger-Rock Martial Arts Dojo is the one for you, contact us today! You can reach us at 504-455-9699 or by clicking here. Tiger-Rock would be honored to have you, we're certain you won't be disappointed.
Fun Facts About Metairie LA
The original spelling, Metairie, means "tenant farm" in French.

Metairie, Louisiana is the home of the New Orleans Baby Cakes baseball team. 

One of Louisiana's oldest and largest shopping malls, Lakeside Shopping Center, is located on Causeway Boulevard in the heart of Metairie.