Westbank LA Adult Martial Arts
Are you beginning to feel like you are not going to find the right Westbank LA Adult Martial Arts class for your specific needs and goals? Perhaps you're unable to find the right place for your skillset. Maybe all of the dojos you've looked at are too expensive. If you're looking for the perfect balance of everything a martial arts dojo in WestBank LA should be, we can help you. Tiger-Rock Martial Arts of Westbank is prepared to provide you with top-notch classes. For affordable prices anybody can keep up with, you can grow immensely.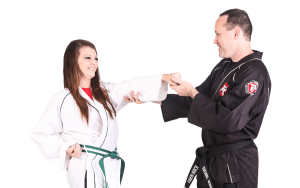 Tiger-Rock Martial Arts is a veteran of the martial arts scene. With decades of experience, our brand traces back to the year 1983, and we've been succeeding ever since. What started as a local way of helping citizens learn karate and martial arts has turned into one to the most successful franchises of all time. If you're trying to find a reputable way to learn martial arts and develop your martial arts skills, TRMA can help.
Our team of certified instructors has mastered the form of Korean Taekwondo we teach. You're probably trying to find a group of people who can properly guide you towards prosperity and mastery of this martial art. If you're ready to learn under the tutelage of some of the best to ever practice this form of combat, we're the place to be. You'll be able to learn from the best and develop mastery over your Korean Taekwondo routines. Find the warrior within and become more of yourself by joining Tiger-Rock and developing within our culture.
Martial Arts Lessons Westbank LA
We pride ourselves on giving students a great atmosphere to learn, practice, and grow in. Chances are, you want to be in a place that will make you comfortable. Nobody wants to try something new or give themselves a tough task to fulfill in a hostile environment. Overall, if you're ready to learn martial arts without all of the pressure behind it, Tiger-Rock is the dojo that can help you the most. Our team wants every single student to have fun while they learn and develop their skills. If you want to be a part of a welcoming atmosphere that celebrates our staff and students, TRMA is the place for you.
While we want to be encouragers, our instructors also understand their roles as motivators. We want every student to bring their best effort to class each and every time they step into the dojo. This is the only way to fully receive what our classes and programs have to offer. And we have seen the benefits and results of this. As a result, students that leave our dojo are strong, mentally sharp, and spiritually focused.
Benefits of Martial Arts Lessons Westbank LA
Are you someone who struggles with feeling fast or strong? Perhaps you're beginning to realize that you're not as physically fit as you'd like to be and you want to change this. If you're looking for a disciplined and even way to get in shape, martial arts can really help you out. Check out our dojo and make a change by signing up and giving it your best efforts. Overall, we'll help you reach your goals and surpass them in no time.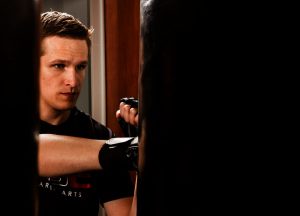 Your mental sharpness is also something you'll be able to keep in check if you commit yourself to our dojo. Your mind is your greatest asset. And you're going to have to protect it if you want to be successful in life. If you're ready to be your best self and give your mental makeup the nourishment it deserves, Tiger Rock is the place to be. Martial arts is a proven way of keeping the brain fresh, focused, and sharp. Nobody wants to deal with brain fog in the morning before a big presentation at work or a colossal test at school. If you want to clear your head and get ahead, we're here to help.
Tiger Rock Martial Arts of Westbank LA
When you're investing in a martial arts dojo in the New Orleans area, you deserve to know exactly what you're paying. That is exactly why Tiger Rock does not include any hidden fees or surcharges to our pricing. We understand that residents in today's times are looking for the best deals, and we're happy to provide some of them. In addition to this, we also don't involve any long-term commitments or contracts. If you're looking for a dojo that offers you peace of mind while you train, this is the place to be.
Our Westbank LA Adult Martial Arts offerings are perfect if you're trying to bring the whole family to martial arts class. With classes available for children as young as three, you'll be able to count on us to train your loved ones. Call us today for more information if you're ready to start learning more about what our dojo has to offer by dialing 504-394-0008. You'll be able to feel a change in your physical and mental realms. If you join our dojo and learn about the benefits of martial arts, changes will undoubtedly take place. Our instructors are ready to help you get better.

Fun Facts About Westbank LA
Westbank is the second-largest city in and the parish seat of Jefferson Parish, Louisiana, United States.

The city has a population of roughly 20,000 residents.

It is home to many restaurants and museums that honor the city's original settlers.