Enroll your child into this awesome kids martial arts class in New Orleans!
For over 30 years, Tiger-Rock Martial Arts has been a leader in kids martial arts training. Thousands of young martial artists have gotten stronger and healthier with our fun and fast-paced kids martial arts lessons at our New Orleans Taekwondo schools. In addition, your child will learn key life skills such as listening, following directions, and self-confidence. Our students set goals, reach new heights, and discover incredible things about themselves daily.
Your child will learn, grow, and succeed with Tiger-Rock's kids martial arts training
With four locations for kids martial arts lessons in the New Orleans Region, Tiger-Rock is Louisiana's leading martial arts academy. Our kids martial arts program is open to students ages 4 to 15 years old. We offer an age-appropriate curriculum in a fun, safe environment. Most important, your child will learn key life skills and self-defense techniques through the martial arts.
Three Awesome Kids Martial Arts Programs
Tiger-Cubs: Martial arts for pre-school students
Building the right foundation can go a long way in life. Our Tiger-Cubs program teaches the basics of martial arts. Our lessons emphasize balance and coordination. As a result, your child will develop important motor skills. This program is for 4- and 5-year-old kids.
Juniors: Martial arts for elementary school students
We place students ranging from 6- to 11-years-old into our Juniors Program. This program includes martial arts drills such as kicking, striking, and sparring. Our focus centers on helping students improve their discipline and their ability to listen and follow instructions. Plus, we also teach important lessons in self-defense against bullies and other threats.
Youth: Martial arts for middle and high school students
Your child will face new challenges as they get older. The middle and high school years can be very formidable. It is a time of growth and self-discovery. Our New Orleans kids martial arts lessons for students 12- to 15-years-old teaches important life, leadership, and social skills through martial arts training.
After your child starts at Tiger-Rock…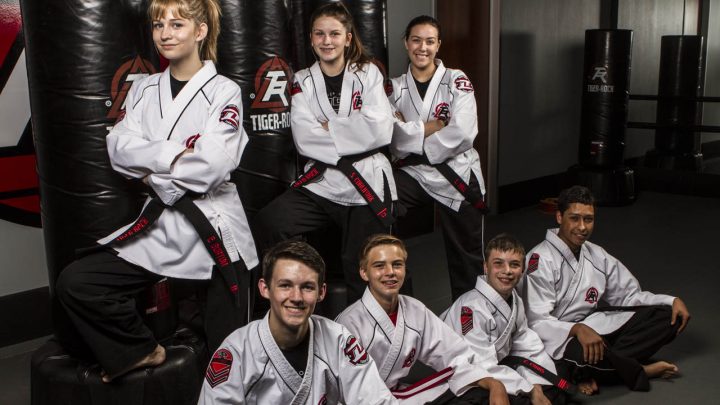 They will be more confident. At Tiger-Rock, we believe in being constructive. We're not drill sergeants. Our instructors focus on what the student does right and help them improve in other areas. With this encouraging approach, we help students build confidence in themselves as they accomplish new goals.
They will be more disciplined. Discipline is an important component of martial arts training. In fact, it is almost at the top of the list. We teach students to follow directions, to be good listeners, and be aware of their surroundings. Altogether, students experience growth in focus and discipline.
They will be healthier. Martial arts training is proven to improve cardiovascular health. It is an incredible way for kids to stay active. Regular lesson attendance at Tiger-Rock can help build muscle, improve flexibility, and maintain a healthy weight.
They will grow. Tiger-Rock students are taught key martial arts techniques, self-defense tactics, and important life skills lessons. They will learn amazing things that will beneficial to them not only on the mat but in life as well. In all,  your child will experience incredible personal growth.
Frequently Asked Questions
My child has behavioral problems…will martial arts help?
Martial arts can improve your child's behavior. Self-control and discipline are major parts of martial arts instruction. Tiger-Rock teaches young students to be responsible for action and to control their emotions.
My child is struggling in school. How can martial arts help?
At Tiger-Rock, we are big on academic accountability. The lessons that we teach in self-control, self-discipline, and personal responsibility often translate off the mat to better performance in the classroom.
I want my child to develop social skills. Is martial arts a good way to do it?
Tiger-Rock Martial Arts is a place for children to build confidence in themselves. In addition, students will learn respect for others. Most important, our students are part of a positive, safe environment to learn life skills and develop strong social skills.
Can martial arts help my child be healthier?
Yes. Martial arts is a physical activity that helps keeps kids active. In fact, it provides benefits such as improvement in cardiovascular health, building muscle strength, and weight loss. Moreover, students will learn the value of healthy eating and proper physical fitness.